In the six weeks since the US Supreme Court decision on June 24 overturned Roe v. Wade, at least 12 states have passed legislation that restricts or places total bans on abortion access, according to reporting by NPR.
However, even in states with some of the most restrictive bans — such as Alabama, where illegal abortions are classified as a Class-A felony— abortion bills still allow for an exemption: in the case of the life of the mother.
All state abortion bills at this writing include this exemption, allowing a qualified physician to make the decision to proceed with an abortion if they believe bodily harm, including cases of organ failure or death, could come to the mother if they continue to carry the pregnancy to term.
However, Obstetrician Gynecologist Seema Menon of Milwaukee, Wisconsin, told Newsweek that the "life of the mother" clause can sometimes be problematic.
"I think it probably sounds really clear, you know, when you read it on paper," Menon said. "But the clinical scenario of what actually constitutes the life of the mother, there's a really large gray zone."
The "gray zone" became a reality in the case of a 10-year-old girl from Ohio who traveled to Indiana to receive an abortion after alleging that she had been raped by a 27-year-old man. A physician she saw in Ohio had referred her to travel out-of-state for abortion services, after determining her pregnancy to be six weeks and three days along. Ohio allows abortions up until a fetal heartbeat can be detected, or roughly around six weeks.
In light of this story, which ultimately made international headlines, several conservative leaders expressed doubts that the young girl with the horrific story actually existed. Among the doubters was Ohio Attorney General Dave Yost, who spoke about the case in an interview aired on Fox News on July 11, just days after the story was first reported.
In the interview, Yost questioned whether the 10-year-old girl even existed, said his office would likely have known about the rape had it been reported, and that if she did exist, she would have qualified for Ohio's exemption from the six- week ban due to the medical emergency to save the life of the mother.
The physician who treated the girl in Ohio, a child abuse doctor, did not see the case that way when the girl was examined, and referred her to travel out of state. She traveled to Indiana to receive abortion services, according to the Columbus Dispatch.
Court records obtained by Newsweek from Franklin County, Ohio, reveal that Gerson Fuentes, 27, was arrested on July 12 in connection to the rape of the 10-year-old girl, who is from Columbus, Ohio. Fuentes was indicted on July 21 on two counts of rape, according to the Columbus Dispatch.
Dr. Menon said that when speaking about the life of an adolescent, it's not enough to isolate cases of extreme medical emergencies, as in the Ohio case, as it does not reflect what comprehensive sexual healthcare looks like for adolescents.
"When we're talking about this particular aspect of comprehensive reproductive care, the goal is ensuring that adolescents reach their full potential," Menon said. "And I think that is why the decision to parent during adolescence is a really important one to protect, you know, to really keep that right within an adolescence."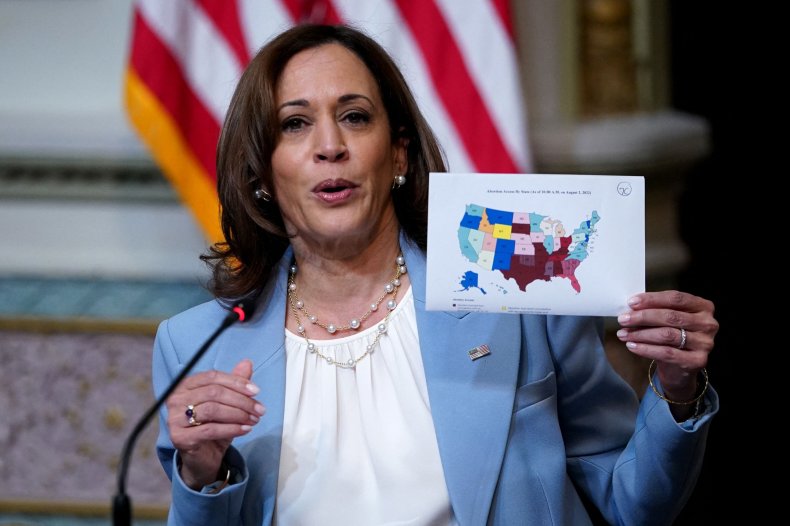 In the past three months, Menon has worked with three pregnant teenagers who received an abortion. She said that each scenario posed a different example as to why the issue of abortion can be so complex for teenagers: one patient experienced a failed contraceptive, one patient became pregnant after a case of sexual abuse, and one patient was working to stabilize a mental health conditions.
"There is a lot of disparity in terms of health care professionals' opinions," Menon said. "One thing that comes up often is mental health. I have had this situation where mental health is severely compromised, and the thought of continuing with unwanted pregnancy is really driving even further instability."
"In that case, mental health is an emergency that is compromising the life of the mother," she added.
Menon added that the patient who was working to stabilize a health condition was suffering from compromised mental health.
Menon said that her role as a full-practice OB-GYN includes helping adolescents prevent pregnancy, caring for them during pregnancy, and helping them to decide whether this is the right time to parent, which can lead to Menon facilitating abortion services.
Now, in the wake of several abortion bans that offer no exemption based on age, Menon said that her relationship with her patients, which is built upon trust, risks being severed in the future.
"It's not really possible to just restrict one part of reproductive health care in isolation and expect that it doesn't impact other parts of reproductive health care," Menon said. "These health laws that we have seen significantly impact health care providers' ability to care for their patients."
Menon said that abortion bans disproportionately impact adolescent patients who already have several barriers to access comprehensive sexual healthcare, including financial limitations, transportation issues or schedule complications from commitments such as school and work. Adolescents who do not have access to resources themselves, or don't have a trusted adult to assist them, could face even harder choices when dealing with unwanted pregnancies.
In all three of the recent cases she cited, Menon said the patients made decisions alongside several trusted adults, and all three teenagers received support from those adults to make the ultimate choice if it was the right time to be a parent.
"I mean, you can see how we end up with a situation where those with resources are able to seek abortion services out of state and those without resources aren't," she said, "and unfortunately may turn to unsafe abortion practices."